Custom Specialty Designs for Hardwood Floors by Sons Flooring
At Son's Flooring, we specialize in creating custom specialty designs for hardwood floors. Our team of experienced craftsmen can transform your floors into a work of art, with a design that is uniquely tailored to your style and taste.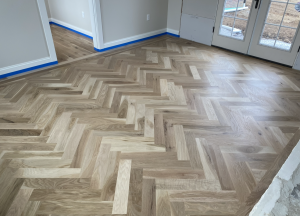 Design Process
Our design process begins with a consultation to discuss your vision for the custom design.
We will work with you to create a design that meets your needs and preferences.
Once the design is finalized, we will provide a detailed estimate and timeline for the project.
During the installation process, we will keep you informed every step of the way, to ensure your satisfaction.
Types of Specialty Designs We offer a wide variety of specialty designs, including:
Borders: A border can be used to define a room or create a visual boundary.
Inlays: Inlays can be used to create intricate designs and patterns within the flooring.
Medallion Installation: A medallion is a focal point that adds visual interest to a room.
Materials and Finishes We offer a variety of hardwoods to choose from, including:
Red Oak
White Oak
Hickory
And many more
We also offer a range of finishes and stains, including:
Matte
Glossy
Satin
Natural
Colored stains
Installation and Maintenance Our installation process includes:
Preparing the subfloor
Installing the custom design
Sanding and finishing
Final inspection and cleanup To maintain your custom design, we recommend:
Regular sweeping and vacuuming
Promptly cleaning up spills and stains
Avoiding exposure to direct sunlight or excessive moisture
If you're ready to create a one-of-a-kind custom design for your hardwood floors, contact Son's Flooring today to schedule a consultation. We look forward to bringing your vision to life!